About Us
Panorama School of Dance has been teaching children to dance in Surrey and Delta for over 30 years. Our first students are now coming back to us with their own children! This is an amazing sight to see, and a testament to the unique experience that these young mothers remember from their childhood. Panorama not only teaches children how to dance, but promotes personal development, poise, self-confidence, health and fitness. Through the years we have grown from a small studio with a dozen students, taking classes in a local church, to a dance school with 2 locations including 6 studios and over 500 families. Through this growth, the personal touch has not been lost, the student still know and love studio director "Miss Lisa" and many life long friendships have been borne.
Our school focuses on teaching everyone to consistently act with integrity and respect for all others, encourages continuous improvement, foster teamwork, and create a healthy balance between work and personal life. Each dance class is innovatively designed to provide creative and progressive training techniques taught be highly qualified dance teachers who focus on developing artistic growth within every student.
Our ballet curriculum follows the high standards set out by the Royal Academy of Dance (RAD). We also excel in offering instruction in other popular performing arts such as Jazz, Lyrical, Hip Hop, Tap and Stage. For the more committed students, we offer the opportunity to train and compete in local dance competitions through solo, duo, or group dance numbers. In fact, many of our students have won numerous competitions in the various dance categories. We also have our performing dance company – Panorama Youth Company – who concentrate on giving our members more opportunity to perform both locally and abroad.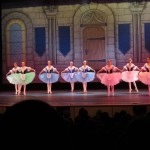 Our school believes strongly in community involvement, frequently performing in the area at Senior Centres, local schools, and other community events. Our annual year-end production give every student the opportunity to showcase their newly developed talent on stage in front of family and friends. Our primary goal is to build self-esteem, confidence, poise and a love of dance while encouraging teamwork, fun and possibly last friendships!The staff at Panorama in interested in your child's personal development and we encourage every student to work towards giving their best effort.