Jazz Dance Classes
Jazz is a dance style that appeals to many students due to its popularity on television shows, movies, music videos and commercials. Our Jazz classes draw inspiration from a wide range of music including jazz, swing, blues, pop, soul and funk. Students can enrol into our Jazz Dance classes starting from the age of 5.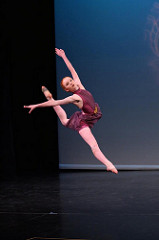 Jazz is a form of dance that showcases a dancer's individual style and originality. Jazz allows students to truly express themselves and stay fit in a safe and friendly environment. Students will not only have a great time dancing and making new friends, but also will find an avenue to express their individuality which can help boost their self-confidence and self-esteem.
Every jazz dancer interprets and executes moves and steps in their own way, making every class energetic and fun, consisting of unique moves, fancy footwork, big leaps and quick turns.
Panorama School of Dance has been offering dance classes in Surrey for over 30 years. Our experienced and friendly staff make Jazz dance classes something that students look forward to attending every day.
Getting your child enrolled in one of our Jazz classes is incredibly easy. You have the option of registering your child online within a few minutes from the list below. Simply select the location at which you would like your child to be enrolled in and the level they fall under.
If you have questions regarding what level your child fits under, or any other questions regarding our dance school feel free to call us at (604) 599-9351 (Ridge Studio) or (604) 599-4011 (Fleetwood Studio).
We look forward to having your child join our dance family.
Register
Class
Gender
Ages
Dates
Days
Times
Register
Jazz Advanced
This class is for advanced students with at least 6 - 8 years of jazz training. Enrolment is based on teachers recommendation.

Jazz is a technique driven style of dance performed to upbeat, popular music. It is derived from ballet and has modernized to be included in broadway, music videos, and concert tours. In the technique part of the class, dancers focus mostly on jumps and turns with a concentration of flexibility training.


Both
13 - 18
09/12/17-05/26/18
Tue
8:00pm-9:30pm
Register
Jazz Int 1A
Jazz is a technique driven style of dance performed to upbeat, popular music. It is derived from ballet and has modernized to be included in broadway, music videos, and concert tours. In the technique part of the class, dancers focus mostly on jumps and turns with a concentration of flexibility training. Enrolment is based on teachers recommendation


Both
9 - 12
09/12/17-05/26/18
Tue
5:30pm-6:30pm
Register
Jazz Int 1A Comp
Competitive dance is a popular, widespread activity in which competitors perform dances in any of several permitted dance styles—such as, ballet, jazz, hip-hop, lyrical, modern, and tap before a common group of judges.

Dancers must continuously train to maintain and improve their technique, balance skills, strength and flexibility. Competitive dancing requires dedication as many months may be spent practicing dance and developing dance routines. Students must also be enrolled in a ballet class in order to take jazz competition. Enrolment is based on teachers recommendation.


Both
9 - 12
09/12/17-05/26/18
Tue
6:30pm-7:00pm
Wait List
Jazz Int 1B
Jazz is a technique driven style of dance performed to upbeat, popular music. It is derived from ballet and has modernized to be included in broadway, music videos, and concert tours. In the technique part of the class, dancers focus mostly on jumps and turns with a concentration of flexibility training. Enrolment is based on teachers recommendation


Both
9 - 12
09/11/17-05/26/18
Mon
6:15pm-7:15pm
Register
Jazz Int 2/3 Comp
Competitive dance is a popular, widespread activity in which competitors perform dances in any of several permitted dance styles—such as, ballet, jazz, hip-hop, lyrical, modern, and tap before a common group of judges. Enrolment is based on teachers recommendation

Dancers must continuously train to maintain and improve their technique, balance skills, strength and flexibility. Competitive dancing requires dedication as many months may be spent practicing dance and developing dance routines. Students must also be enrolled in a ballet class in order to take jazz competition.


Both
10 - 14
09/14/17-05/26/18
Thu
5:00pm-5:45pm
Register
Jazz Int 2A
Jazz is a technique driven style of dance performed to upbeat, popular music. It is derived from ballet and has modernized to be included in broadway, music videos, and concert tours. In the technique part of the class, dancers focus mostly on jumps and turns with a concentration of flexibility training. Enrolment is based on teachers recommendation


Both
9.5 - 13
09/14/17-05/26/18
Thu
3:45pm-5:00pm
Register
Jazz Int 2B
Jazz is a technique driven style of dance performed to upbeat, popular music. It is derived from ballet and has modernized to be included in broadway, music videos, and concert tours. In the technique part of the class, dancers focus mostly on jumps and turns with a concentration of flexibility training. Enrolment is based on teachers recommendation


Both
10 - 13
09/13/17-05/26/18
Wed
4:15pm-5:30pm
Wait List
Jazz Int 3A
Jazz is a technique driven style of dance performed to upbeat, popular music. It is derived from ballet and has modernized to be included in broadway, music videos, and concert tours. In the technique part of the class, dancers focus mostly on jumps and turns with a concentration of flexibility training.


Both
10 - 13
09/14/17-05/26/18
Thu
5:45pm-7:00pm
Register
Jazz Int 3B
This class is ideal for new students wanting to try jazz, ages 9 - 11. Jazz is a technique driven style of dance performed to upbeat, popular music. It is derived from ballet and has modernized to be included in broadway, music videos, and concert tours. In the technique part of the class, dancers focus mostly on jumps and turns with a concentration of flexibility training.


Both
8.5 - 11.42
09/15/17-05/26/18
Fri
5:30pm-6:45pm
Register
Jazz Jnr 1A
Jazz is a technique driven style of dance performed to upbeat, popular music. It is derived from ballet and has modernized to be included in broadway, music videos, and concert tours. In the technique part of the class, dancers focus mostly on jumps and turns with a concentration of flexibility training.


Both
5.5 - 7
09/15/17-05/26/18
Fri
5:00pm-6:00pm
Register
Jazz Jnr 1B
This program is a comprehensive early childhood dance syllabus that is based on the children's physical, emotional and cognitive development. It encourages creativity, self-expression, and fundamental movement skills.




Both
5.5 - 7
09/09/17-05/26/18
Sat
1:45pm-2:45pm
Register
Jazz Jnr 2/3 Comp
Competitive dance is a popular, widespread activity in which competitors perform dances in any of several permitted dance styles—such as, ballet, jazz, hip-hop, lyrical, modern, and tap before a common group of judges.

Dancers must continuously train to maintain and improve their technique, balance skills, strength and flexibility. Competitive dancing requires dedication as many months may be spent practicing dance and developing dance routines. Students must also be enrolled in a ballet class in order to take jazz competition. Enrolment is based on teachers recommendation for students taking Jazz Jnr 2 or 3 level.


Both
6 - 9
09/09/17-05/26/18
Sat
12:45pm-1:30pm
Register
Jazz Jnr 2A
Jazz is a technique driven style of dance performed to upbeat, popular music. It is derived from ballet and has modernized to be included in broadway, music videos, and concert tours. In the technique part of the class, dancers focus mostly on jumps and turns with a concentration of flexibility training.


Both
6.5 - 8
09/11/17-05/26/18
Mon
4:30pm-5:30pm
Register
Jazz Jnr 2B
Jazz is a technique driven style of dance performed to upbeat, popular music. It is derived from ballet and has modernized to be included in broadway, music videos, and concert tours. In the technique part of the class, dancers focus mostly on jumps and turns with a concentration of flexibility training.


Both
6.5 - 8
09/09/17-05/26/18
Sat
1:30pm-2:30pm
Register
Jazz Jnr 3A
Jazz is a technique driven style of dance performed to upbeat, popular music. It is derived from ballet and has modernized to be included in broadway, music videos, and concert tours. In the technique part of the class, dancers focus mostly on jumps and turns with a concentration of flexibility training.


Both
7.5 - 9
09/12/17-05/26/18
Tue
4:30pm-5:30pm
Wait List
Jazz Jnr 3B
Jazz is a technique driven style of dance performed to upbeat, popular music. It is derived from ballet and has modernized to be included in broadway, music videos, and concert tours. In the technique part of the class, dancers focus mostly on jumps and turns with a concentration of flexibility training.


Both
7.5 - 9
09/09/17-05/26/18
Sat
11:45am-12:45pm
Wait List
Jazz Snr 1A
Jazz is a technique driven style of dance performed to upbeat, popular music. It is derived from ballet and has modernized to be included in broadway, music videos, and concert tours. In the technique part of the class, dancers focus mostly on jumps and turns with a concentration of flexibility training. Enrolment is based on teachers recommendation


Both
10.5 - 13
09/14/17-05/26/18
Thu
7:00pm-8:30pm
Register
Jazz Snr 2A
Jazz is a technique driven style of dance performed to upbeat, popular music. It is derived from ballet and has modernized to be included in broadway, music videos, and concert tours. In the technique part of the class, dancers focus mostly on jumps and turns with a concentration of flexibility training. Enrolment is based on teachers recommendation


Both
10 - 14
09/11/17-05/26/18
Mon
7:15pm-8:45pm
Register
Jazz Snr 2A Comp
Competitive dance is a popular, widespread activity in which competitors perform dances in any of several permitted dance styles—such as, ballet, jazz, hip-hop, lyrical, modern, and tap before a common group of judges.

Dancers must continuously train to maintain and improve their technique, balance skills, strength and flexibility. Competitive dancing requires dedication as many months may be spent practicing dance and developing dance routines. Enrolment in ballet classes are a requirement to participate in jazz competition class. Enrolment is based on teachers recommendation


Both
10 - 14
09/11/17-05/26/18
Mon
8:45pm-9:30pm
Register
Jazz Snr 2B
Jazz is a technique driven style of dance performed to upbeat, popular music. It is derived from ballet and has modernized to be included in broadway, music videos, and concert tours. In the technique part of the class, dancers focus mostly on jumps and turns with a concentration of flexibility training. Enrolment is based on teachers recommendation


Both
12.5 - 18
09/14/17-05/26/18
Wed
8:00pm-9:30pm
Register
Jazz Snr 3
Jazz is a technique driven style of dance performed to upbeat, popular music. It is derived from ballet and has modernized to be included in broadway, music videos, and concert tours. In the technique part of the class, dancers focus mostly on jumps and turns with a concentration of flexibility training. Enrolment is based on teachers recommendation


Both
12.5 - 18
09/11/17-05/26/18
Mon
4:45pm-6:15pm
Register
Jazz Snr 4
Jazz is a technique driven style of dance performed to upbeat, popular music. It is derived from ballet and has modernized to be included in broadway, music videos, and concert tours. In the technique...


Both
11.5 - 18
09/13/17-05/26/18
Wed
8:00pm-9:30pm
Register
Jazz Snr 7
Jazz is a technique driven style of dance performed to upbeat, popular music. It is derived from ballet and has modernized to be included in broadway, music videos, and concert tours. In the technique part of the class, dancers focus mostly on jumps and turns with a concentration of flexibility training.


Both
13 - 18
09/11/17-05/26/18
Mon
7:45pm-9:15pm
Register
Pre Jazz A
Jazz is a technique driven style of dance performed to upbeat, popular music. It is derived from ballet and has modernized to be included in broadway, music videos, and concert tours. In the technique part of the class, dancers focus mostly on jumps and turns with a concentration of flexibility training. This is a beginner jazz class for those students turning 5 in 2016


Both
4.5 - 6
09/13/17-05/26/18
Wed
3:30pm-4:15pm
Register
Pre Jazz B
Jazz is a technique driven style of dance performed to upbeat, popular music. It is derived from ballet and has modernized to be included in broadway, music videos, and concert tours. In the technique part of the class, dancers focus mostly on jumps and turns with a concentration of flexibility training. This is a beginner jazz class for those students turning 5 in 2016


Both
4.5 - 6
09/09/17-05/26/18
Sat
11:00am-11:45am
Register
Teen Jazz
*This class is an excellent choice for those young teenagers looking to try a new dance style. Students will have 0 - 2 years of dance training. Jazz is a technique driven style of dance performed to upbeat, popular music. It is derived from ballet and has modernized to be included in Broadway, music videos, and concert tours. In the technique part of the class, dancers focus mostly on jumps and turns with a concentration on flexibility training.


Both
11.5 - 17
09/14/17-05/26/18
Thu
7:30pm-8:30pm
Register
Class
Gender
Ages
Dates
Days
Times
Register
Jazz Intermediate 1
Jazz is a technique driven style of dance performed to upbeat, popular music. It is derived from ballet and has modernized to be included in broadway, music videos, and concert tours. In the technique part of the class, dancers focus mostly on jumps and turns with a concentration of flexibility training.


Both
8 - 12
09/11/17-05/26/18
Mon
4:00pm-5:15pm
Register
Jazz Intermediate 2A
Enrolment is based on teachers recommendation. Jazz is a technique driven style of dance performed to upbeat, popular music. It is derived from ballet and has modernized to be included in broadway, music videos, and concert tours. In the technique part of the class, dancers focus mostly on jumps and turns with a concentration of flexibility training.


Both
8.5 - 12
09/14/17-05/26/18
Thu
4:15pm-5:30pm
Register
Jazz Intermediate 2B
2 - 3 years jazz dance experience required. Enrolment is based on teachers recommendation.

Jazz is a technique driven style of dance performed to upbeat, popular music. It is derived from ballet and has modernized to be included in broadway, music videos, and concert tours. In the technique part of the class, dancers focus mostly on jumps and turns with a concentration of flexibility training.


Both
9 - 12
09/11/17-05/26/18
Mon
5:15pm-6:30pm
Register
Jazz Intermediate 3
Enrolment is based on teachers recommendation. 3 - 4 years jazz dance experience required.

Jazz is a technique driven style of dance performed to upbeat, popular music. It is derived from ballet and has modernized to be included in broadway, music videos, and concert tours. In the technique part of the class, dancers focus mostly on jumps and turns with a concentration of flexibility training.


Both
11 - 15
09/11/17-05/26/18
Mon
6:30pm-8:00pm
Register
Jazz Junior 2
Jazz is a technique driven style of dance performed to upbeat, popular music. It is derived from ballet and has modernized to be included in broadway, music videos, and concert tours. In the technique part of the class, dancers focus mostly on jumps and turns with a concentration of flexibility training.


Both
6.5 - 9
09/09/17-05/26/18
Sat
12:15pm-1:15pm
Register
Jazz Junior 3
Jazz is a technique driven style of dance performed to upbeat, popular music. It is derived from ballet and has modernized to be included in broadway, music videos, and concert tours. In the technique part of the class, dancers focus mostly on jumps and turns with a concentration of flexibility training.


Both
7.5 - 10
09/09/17-05/26/18
Sat
9:15am-10:15am
Register
Jazz Senior 2
Enrolment is based on teachers recommendation. 3 - 4 years jazz dance experience required.

Jazz is a technique driven style of dance performed to upbeat, popular music. It is derived from ballet and has modernized to be included in broadway, music videos, and concert tours. In the technique part of the class, dancers focus mostly on jumps and turns with a concentration of flexibility training.


Both
12 - 18
09/11/17-05/26/18
Mon
8:00pm-9:30pm
Register
Jazz Senior 3
Enrolment is based on teachers recommendation. 3 - 4 years jazz dance experience required.

Jazz is a technique driven style of dance performed to upbeat, popular music. It is derived from ballet and has modernized to be included in broadway, music videos, and concert tours. In the technique part of the class, dancers focus mostly on jumps and turns with a concentration of flexibility training.


Both
12 - 18
09/12/17-05/26/18
Tue
5:30pm-7:00pm
Register
Jazz - Teen (10 - 16 years)
*This class is for pre - teen / teen students who are new to jazz with 0 - 2 years experience

Jazz is a technique driven style of dance performed to upbeat, popular music. It is derived from ballet and has modernized to be included in Broadway, music videos, and concert tours. In the technique part of the class, dancers focus mostly on jumps and turns with a concentration on flexibility training.




Both
9.5 - 17
09/13/17-05/26/18
Wed
7:45pm-9:00pm
Register
Jazz Int 2A Comp
Competitive dance is a popular, widespread activity in which competitors perform dances in any of several permitted dance styles—such as, ballet, jazz, hip-hop, lyrical, modern, and tap before a common group of judges. .

Dancers must continuously train to maintain and improve their technique, balance skills, strength and flexibility. Competitive dancing requires dedication as many months may be spent practicing dance and developing dance routines. Students must also be enrolled in a ballet class in order to take jazz competition. Comp class is in addition to the regular jazz class, and at the teachers recommendation.


Both
8 - 12
09/14/17-05/26/18
Thu
3:30pm-4:15pm
Register
Pre Jazz
Jazz is a technique driven style of dance performed to upbeat, popular music. It is derived from ballet and has modernized to be included in broadway, music videos, and concert tours. In the technique part of the class, dancers focus mostly on jumps and turns with a concentration of flexibility training.

Age: students will be entering kindergarten in September


Both
4.5 - 6
09/09/17-05/26/18
Sat
10:15am-11:00am