Leap N' Learn Dance Classes
Leap N' Learn is our early childhood dance program is specifically designed for boys and girls between the ages of three and four. Designed by master teacher Beverly Spell and expert child psychologist Dr. Annie Spell, the syllabus combines the healthiest practices for teaching children ballet technique, while simultaneously encouraging pretend play amongst the youngest students to maintain a positive and fun environment.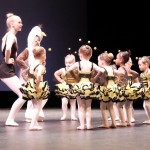 Leap 'N Learn teaches children to learn the basics of classroom behaviour and manners, which include learning how to take turns, following another dancer or leading the way, waiting patiently, working together with others, and having a positive attitude.
Panorama School of Dance has been offering dance classes in Surrey for over 35 years. Our experienced and friendly staff make our classes an activity that students truly look forward to attending.
Getting your child enrolled in one of our Leap N' Learn dance classes is incredibly easy. You have the option of registering your child online within a few minutes from the list below. Simply select the location at which you would like your child to be enrolled in and the level they fall under.
If you have questions regarding our Leap N' Learn dance program, or any other questions regarding our dance school feel free to call us at (604) 599-9351 (Ridge Studio) or (604) 599-4011 (Fleetwood Studio).
Register
Class
Gender
Ages
Dates
Days
Times
Register
Leap 'n Learn 3's (A)
This program is a comprehensive early childhood dance syllabus that is based on the children's physical, emotional and cognitive development.

It encourages creativity, self expression, and fundamental movement skills.

For students who will be turning 3 in 2017


Both
2.5 - 3.67
09/12/17-05/26/18
Tue
12:30pm-1:15pm
Register
Leap 'n Learn 3's (B)
This program is a comprehensive early childhood dance syllabus that is based on the children's physical, emotional and cognitive development.

It encourages creativity, self expression, and fundamental movement skills.

For students who will be turning 3 in 2017


Both
2.5 - 3.67
09/09/17-05/26/18
Sat
10:15am-11:00am
Register
Leap 'n Learn 4's (A)
This program is a comprehensive early childhood dance syllabus that is based on the children's physical, emotional and cognitive development.

It encourages creativity, self expression, and fundamental movement skills.


Both
3.5 - 4.67
09/12/17-05/26/18
Tue
1:15pm-2:00pm
Wait List
Leap 'n Learn 4's (B)
This program is a comprehensive early childhood dance syllabus that is based on the children's physical, emotional and cognitive development.

It encourages creativity, self expression, and fundamental movement skills.


Both
3.5 - 4.67
09/09/17-05/26/18
Sat
9:30am-10:15am
Register
Leap n' Learn 4's (C)
This program is a comprehensive early childhood dance syllabus that is based on the children's physical, emotional and cognitive development.

It encourages creativity, self expression, and fundamental movement skills.


Both
3.5 - 4.67
09/09/17-05/26/18
Sat
2:30pm-3:15pm
Register
Class
Gender
Ages
Dates
Days
Times
Register
Leap n' Learn 3's
This program is a comprehensive early childhood dance syllabus that is based on the children's physical, emotional and cognitive development.

It encourages creativity, self expression, and fundamental movement skills.

For students who will be turning 3 in 2017


Both
2.5 - 3.67
09/09/17-05/26/18
Sat
1:00pm-1:45pm
Register
Leap n' Learn 4's
This program is a comprehensive early childhood dance syllabus that is based on the children's physical, emotional and cognitive development.

It encourages creativity, self expression, and fundamental movement skills.


Both
3.5 - 4.67
09/09/17-05/26/18
Sat
1:15pm-2:00pm