Tap Dance Classes
Tap dance is a style of dance whereby performers wear shoes which have been equipped with metal plates. As the dancer moves, the plates click against the dance floor, creating a characteristic tapping sound. Tappers can create a variety of percussive rhythms with their feet by tapping, sliding, and clicking the metal plates.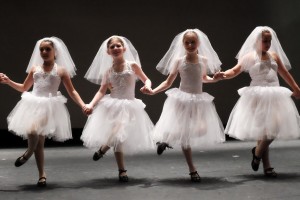 Parents can enjoy both the movements of the dancer and the sound of the tapping, with tap dancers performing either alone or with musical accompaniment.
Some of the benefits of tap dance include increasing cardiovascular conditioning, strength, flexibility and coordination for students. Tap builds strength in the legs and feet in addition to increasing flexibility in the hips, knees and ankles. Cognitive abilities are also enhanced, as tap dancers must develop both mental and muscle memory to become proficient at tapping.
Tap dancing also develops a great sense of rhythm and timing. Our tap instructors help students focus on music awareness while incorporating tap steps and combinations.
Panorama School of Dance has been offering dance classes in Surrey for over 35 years. Our experienced and friendly staff make our tap dance classes something that students truly look forward to attending every day.
Getting your child enrolled in one of our tap dance classes is incredibly easy. You have the option of registering your child online within a few minutes from the list below. Simply select the location at which you would like your child to be enrolled in and the level they fall under.
If you have questions regarding our dance programs, or any other questions regarding our dance school feel free to call us at (604) 599-9351 (Ridge Studio) or (604) 599-4011 (Fleetwood Studio).
Register
Class
Gender
Ages
Dates
Days
Times
Register
Tap Inter 1
Tap is a fun, fast and rhythmic art form, like being your own drum set. It's hard to be sad when you're tapping. Classes are offered to dancers ages five and up. Enrolment is based on teachers recommendation


Both
7 - 11
09/15/17-05/26/18
Fri
7:00pm-8:00pm
Register
Tap Inter 2
Tap is a fun, fast and rhythmic art form, like being your own drum set. It's hard to be sad when you're tapping. Classes are offered to dancers ages five and up. Enrolment is based on teachers recommendation


Both
8 - 13
09/13/17-05/26/18
Wed
3:30pm-4:30pm
Register
Tap Junior 1 / 2
For new students aged 5 - 8 and returning Tap Jnr 1's

Tap is a fun, fast and rhythmic art form, like being your own drum set. It's hard to be sad when you're tapping. Classes are offered to dancers ages five and up.


Both
4.5 - 9
09/15/17-05/26/18
Fri
4:00pm-5:00pm
Register
Tap Junior 3
For new students aged 5-9 with 0 - 2 years tap experience

Tap is a fun, fast and rhythmic art form, like being your own drum set. It's hard to be sad when you're tapping. Classes are offered to dancers ages five and up.


Both
7.5 - 10
09/15/17-05/26/18
Fri
6:00pm-7:00pm
Register
Tap Senior 1
Tap is a fun, fast and rhythmic art form, like being your own drum set. It's hard to be sad when you're tapping. Some previous tap experience required for this level.


Both
9 - 14
09/13/17-05/26/18
Wed
7:00pm-8:00pm
Register
Tap Senior 2
Tap is a fun, fast and rhythmic art form, like being your own drum set. It's hard to be sad when you're tapping. Some tap experience is required for this level.


Both
10 - 18
09/13/17-05/26/18
Wed
5:30pm-6:30pm
Register
Class
Gender
Ages
Dates
Days
Times
Register
Tap Intermediate
Tap is a fun, fast and rhythmic art form, like being your own drum set.

It's hard to be sad when you're tapping.

*Students must have 2 - 3 years of tap experience, or be recommended by the teacher


Both
8 - 11
09/14/17-05/26/18
Thu
5:30pm-6:30pm
Register
Tap Junior
*For beginner 'tappers' ages 5 through 8.

Tap is a fun, fast and rhythmic art form, like being your own drum set. It's hard to be sad when you're tapping. Classes are offered to dancers ages five and up.


Both
4.5 - 8.5
09/09/17-05/26/18
Sat
1:45pm-2:30pm
Register
Tap Senior
Tap is a fun, fast and rhythmic art form, like being your own drum set.

It's hard to be sad when you're tapping.

*Students must have 2 - 3 years of tap experience, or be recommended by the teacher


Both
10.5 - 17
09/14/17-05/26/18
Thu
7:30pm-8:30pm